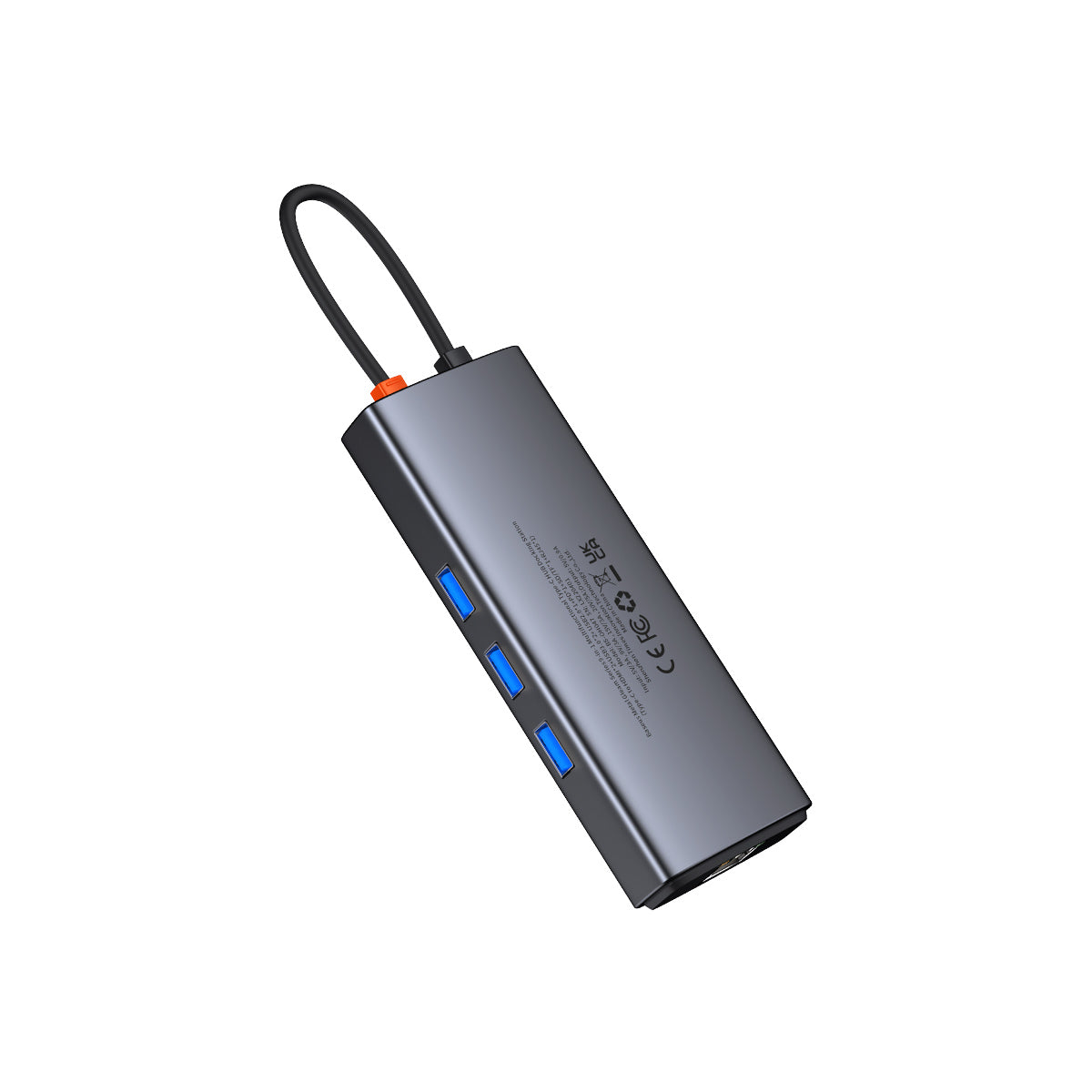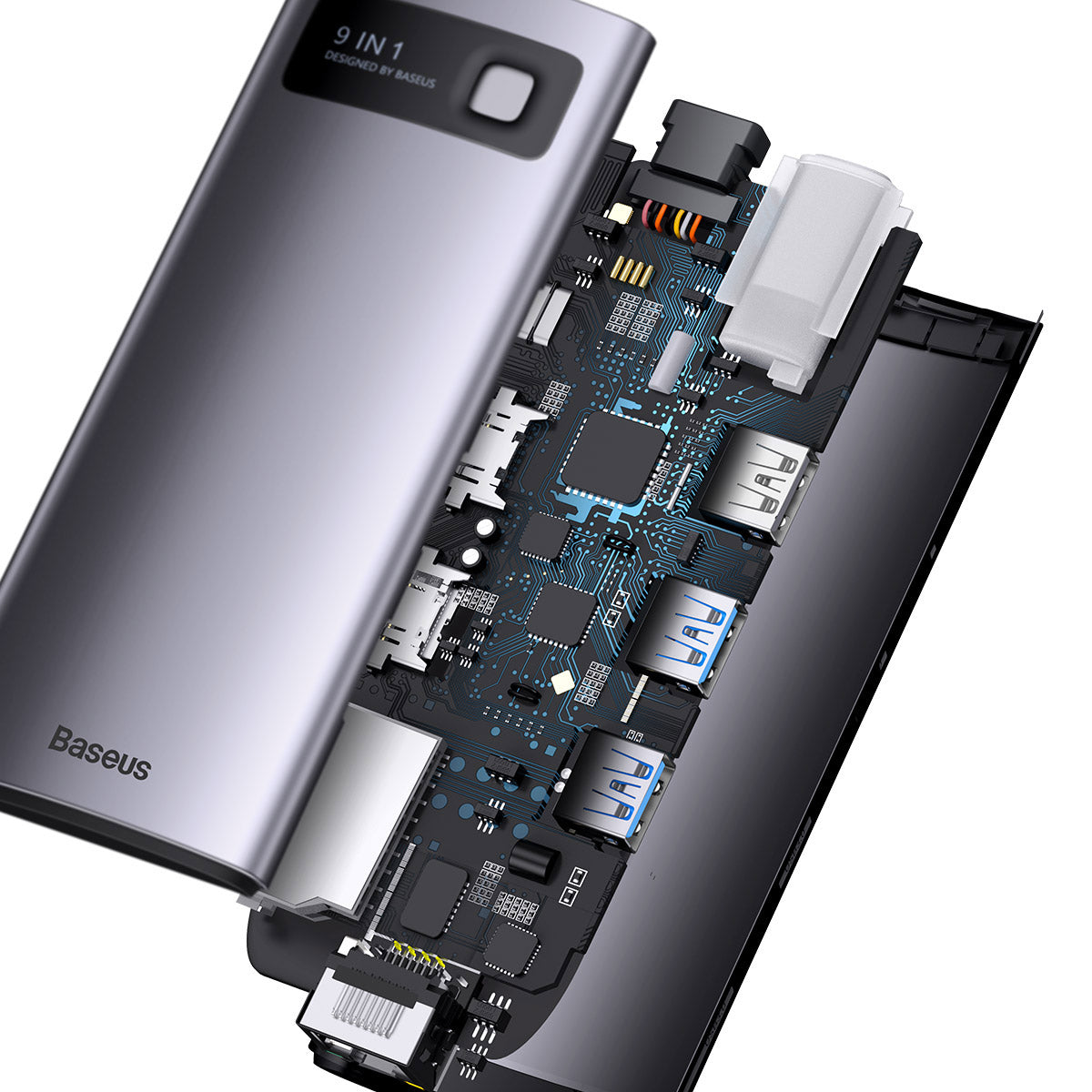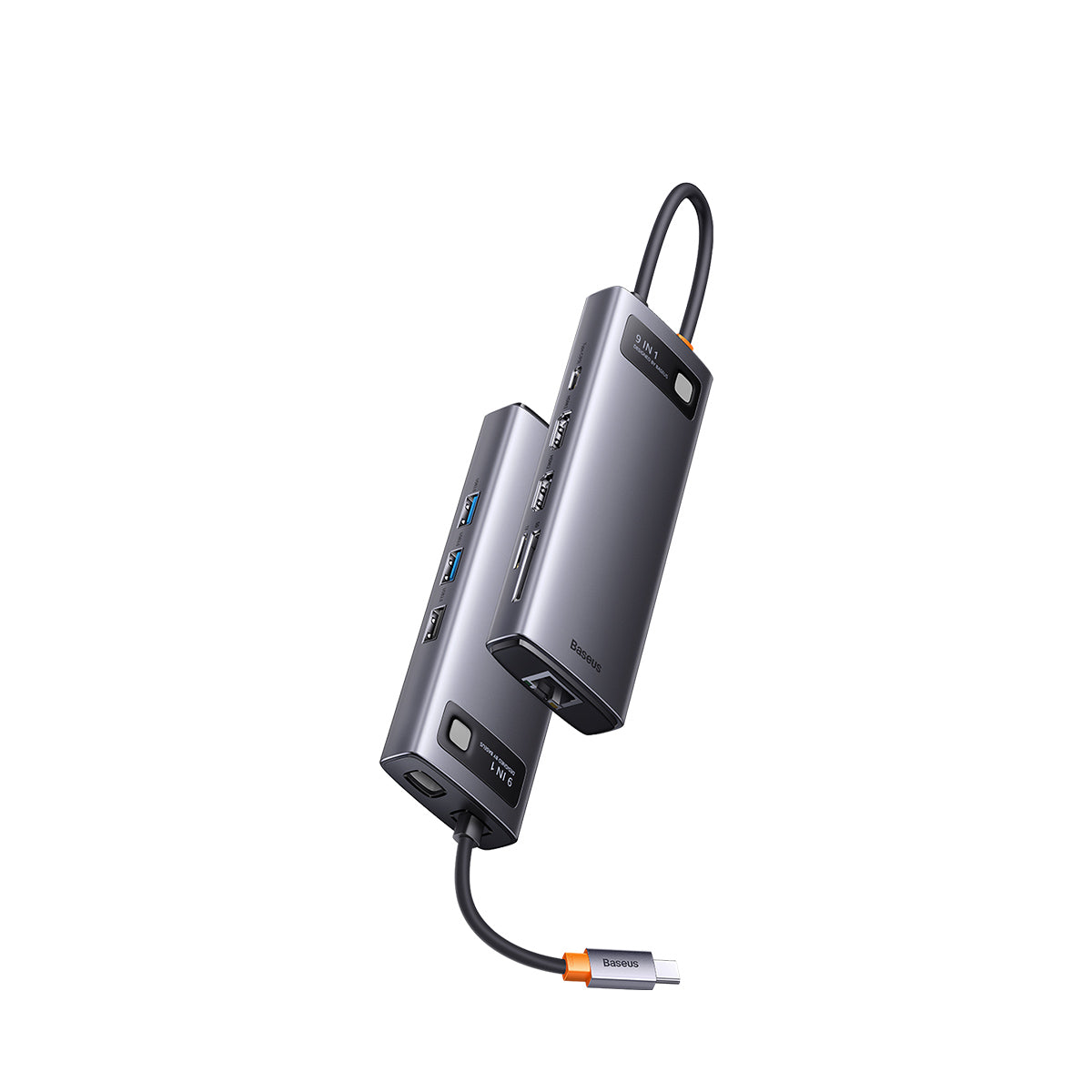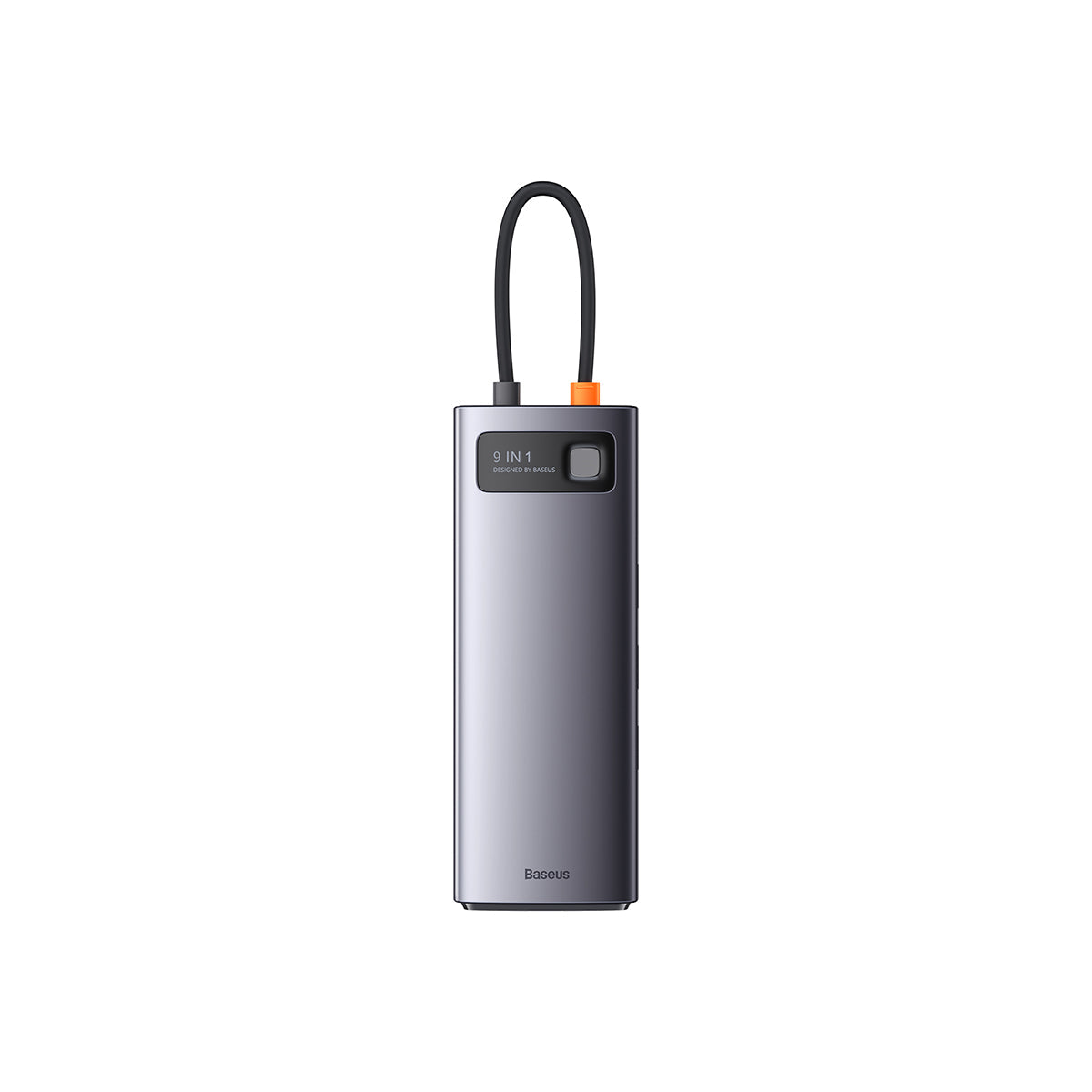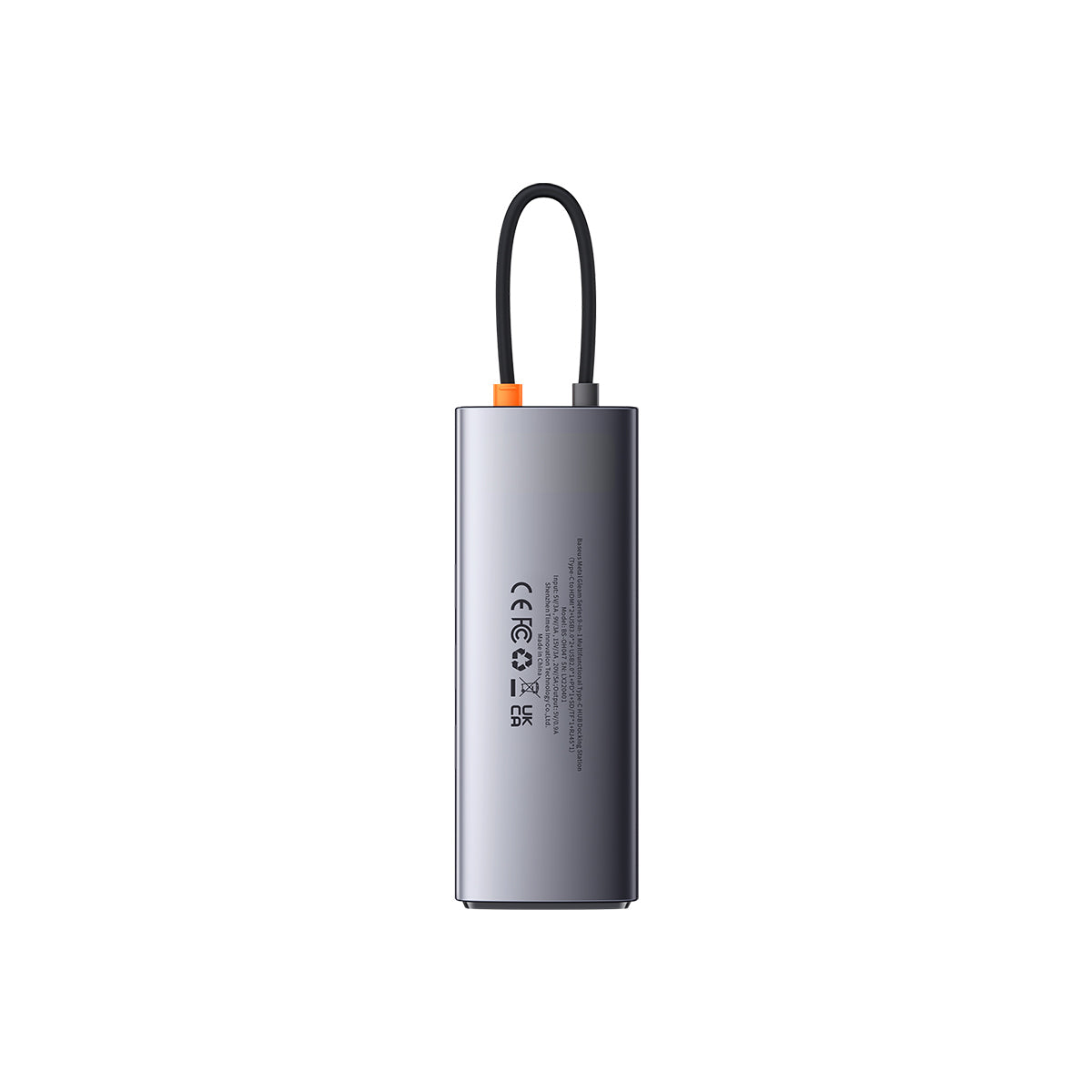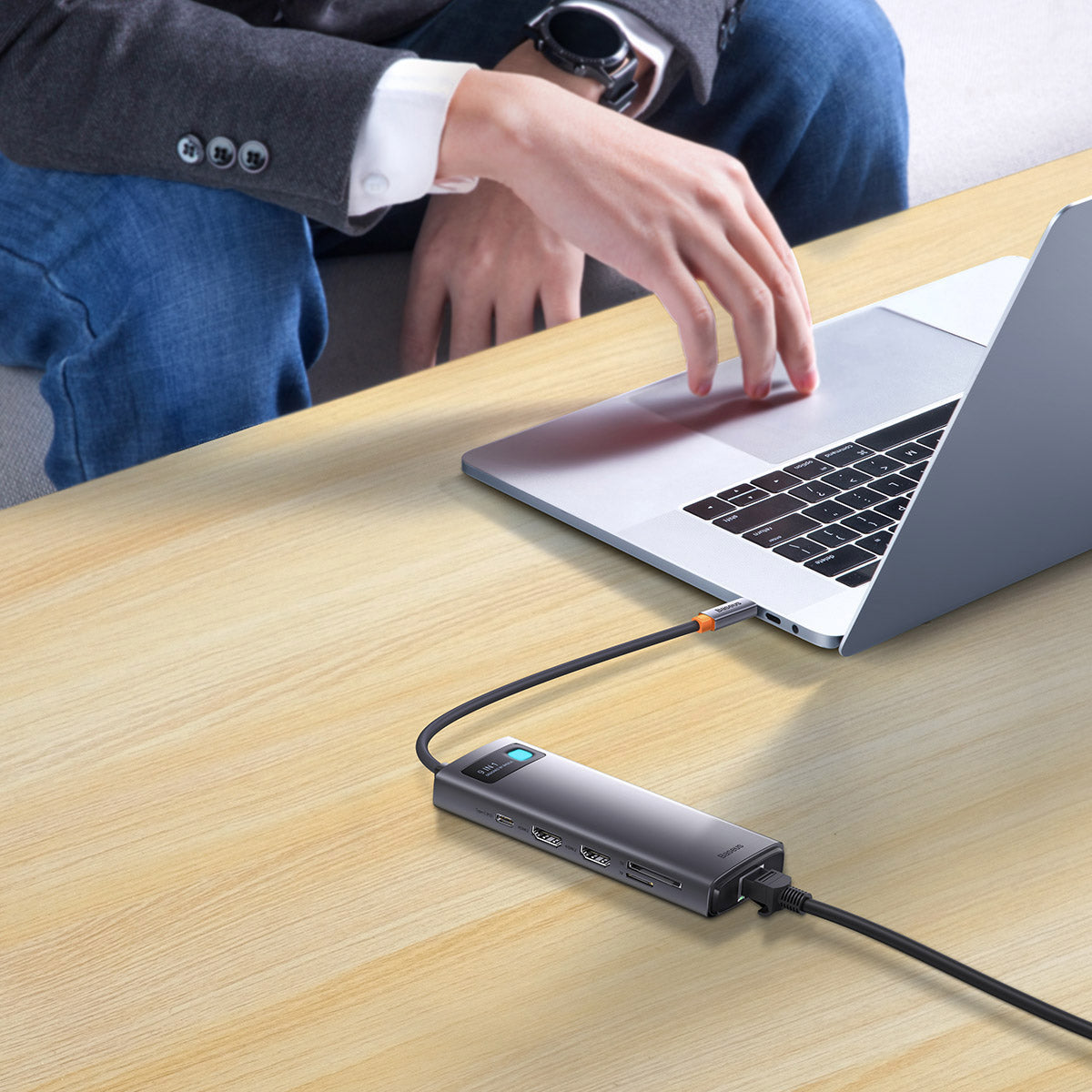 Baseus Joystar 9 in 1 USB-C Hub
● 120Hz USB C to HDMI Adapter
● Stable 1000Mbps Ethernet
● Fast Power Delivering Hub
● Advance USB C Card Reader
● Effortless Data Transfer
In stock
Get Ready with Below Points
Ensure that your laptop

'

s USB-C port supports the

 

Power Delivery, DP Alt Mode and Data Transfer

 

to access the full feature of this USB-C hub.
Not all laptop's USB-C port support video output.

 

Only USB-C port that support the DP protocol can support external displays, the DP1.4 protocol support resolution up to 4K120Hz.
If you don't have enough knowledge about it,

 

be free to reach our support team

 

by providing your laptop

'

s brand and model so that we could help you out.
Up to 120HZ High Refresh Rate
The Maximum display output resolution up to 4K@120Hz with HDMI 1 while single display, also backwards with 4K@60Hz / 2K@120Hz / 1080P@60Hz
NOTE with 120HZ Output:
The USB-C port of laptop must

 

support the DP1.4 protocol.

External Monitor

 

must support 120HZ or Higher Refresh Rate.

Only HDMI 1 of dock output up to 4K@120Hz, HDMI 2 display up to 4K@30Hz.
Other NOTES:
When more external devices are connected through this hub, it is recommended to connect with power supply through the USB-C PD port.

For MacBook users, settings are required to use LAN ethernet port. Go to:

"

System Preferences

–

Network, click on

"

+

"

icon and selecting usb 10 / 100 / 1000 LAN to create an application

If the HDMI isn

'

t stable when extending on monitor, ensure to firmly plug the HDMI cable and assure that the hub is powered through the USB-C port

This USB-C hub docking station much be directly plug to the USB-C port of your laptop. It may not work if plugged to a convert or other port adapters.

Some users' laptop upgrade from Windows 10 to Windows 11, which cause the USB-C interface of laptop cannot recognize the usb c hub. Please upgrade the "USB-C interface" driver of laptop

Some laptop interface have an over-discharge protection protocol. Please keep the PD adapter connected with docking station while using for a long time.
MAC User Must Pay Attention.
Due to the limitation of Mac system, 2 external monitors will display the same content(such as A+B+B). 3 different screens can not be achieved.
USB-C Fast Power Delivery
The PD charging port supports delivering power to your devices quickly. You can use this docking station to power your laptop with the original power supply.
Expansion for USB devices
2*USB 3.0 Ports with 5Gbps transfer speed and 1*USB 2.0 Port with 480Mbps transfer speed, also allows you to connect keyboard or mouse without any lag.
USB C SD Card Reader
The SD/TF Card reader can read at the same time, immediately transfer pictures to your phone, tablet or laptop everywhere.(Speed up to 104 MB/s)
Gigabit Network Port
Get a stable high-speed network connection on the USB-C device. Supports max 1000Mbps ethernet, backwards compatible with 100Mbps/10Mbps RJ45 LAN.
Unique Indicator Light
The baseus uniquely designed indicator shines icy blue light, can visually display the working status of the USB C hub but not disturbing you at night.
Design Awards We've Earned
Baseus originates from our core value "Based on User". With more than a decade of focus on consumer electronics, innovation and creativity led us to where we are right now with numerous patents, international design awards, and a vast variety of product.
Compatible Device's Models
For Apple:
MacBook/ MacBook Pro(2021/2020/2019/2018); Macbook Air 2018-2020, Mac mini 2018-2020, iPad Pro/Air 2018/2020, iPad mini 6
For Dell:
Dell XPS 9380/ XPS 13 9365/ XPS 15 2018/ XPS 13 9300; Dell Latitude 5290 2 in 1/5285/5480/5490/5580/7280/Dell Latitude E7370/E7470/E7480/E7490/ laptop/Dell Latitude 13 7000/E7370L/New XPS 15 i7
For Lenovo:
Lenovo Yoga 720-13IKB/ Yoga 730/ Yoga 900-13ISK/ Yoga 910/ Yoga 920/ Yoga 930/ Yoga 940-14IIL; 3rd generation Thinkpad Yoga; Yoga15 Thinkpad Ultrabook Pro; Thinkpad E590/ Thinkpad P72/ Thinkpad T470/ Thinkpad X1 Carbon (2019 model); Lenovo C930/ T480s/ X390/ 81N8
For Surface:
Microsoft Surface Book 2/ Surface Laptop 3; Surface Pro 7/Surface Pro 8/Surface Go
For Samsung:
Samsung Galaxy S10+/S10/S9+ /S9 /S8+ /S8 Plus; Note 10/9/8; Galaxy Book Flex Alpha 2-in-1 13.3" QLED Touch-Screen Laptop; Galaxy Tab S5e/ Galaxy Tab S4; Galaxy S20 Ultra
For HP:
HP Spectre Laptop 13-af001TU/ Spectre x360 13t/ Spectre folio (13t-ak000cto)/ Spectre 360 laptop/ Specter x369; Elitebook 840 G5 series/ Elitebook X2/ Elitebook x360 1030 G3/ Elitebook 745 G6/ Elitebook 830 G6/ 2018 HP Elite 800 G4; Envy Geforce mx250/ Envy x360 Laptop (15z-ds100); Z book 15u G3/ Zbook 17 G4
For ASUS:
13'' ASUS Zenbook UX330UA/ Zenbook Flip ux370u; ASUS TUF Gaming A15 Gaming Laptop
For Acer:
Acer Aspire 5 2019; D17w3 Aspire c24-865
For Games:
Steam Deck
Other Laptops:
Google Slate (2019); SanDisk Cruise Glide; Razer Blade 2017 (gtx 1060); Pixel book go 2019/2020, Google Chromebook Pixel Book; 13'' ASUS Zenbook UX330UA; LG G5, LG gram 14Z990-V.AA52C